Beate's inspiration piece this week is a child's room.  The thing that caught my eye was the lions, monkeys and other animals.  They
brought Africa to mind.  Now this may be because my son's girlfriend just returned from spending a month in Africa.. Madagascar to be exact.  And did she ever have a unique and wonderful surprise for me!  She brought me stamps.  Not just any stamps but handmade stamps.  She said that this vendor in Antananarivo had a book from which you could choose a design.  He would then proceed to carve that design into the rubber.  She picked out a couple of chameleon images.  I made my card for Beate's challenge today with one of these awesome stamps.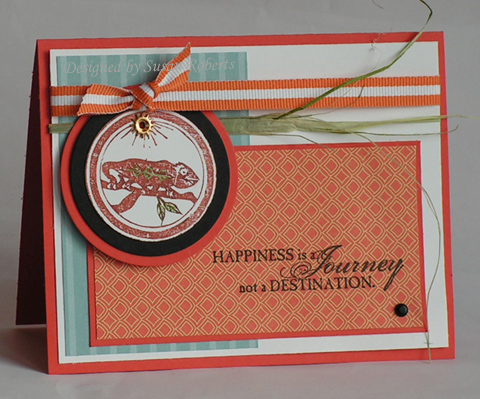 The raffia on the card is also something that she brought me.  It is so fresh that it is still green.
These stamps are such a special gift.  I just LOVE them!
Thank you SO MUCH, Elise!
Be sure to check out the other inspiration challenge team's blogs!
Jennifer Buck
Charmaine Ikach
Silke Ledlow
Danielle Lounds
Dawn McVey
——————————
Inspiration Card
Stamps: Handmade Chameleon from Madagascar, Africa; SU! 'Happiness is a Journey'
Papers: SU! Tangerine Tango, Basic Black, Whisper White, DSP 'Patterns' in Bali Breeze and 'Haiku'
Inks: SU! Really Rust, Old Olive Markers; Versafine 'Onyx Black'
Accessories: Raffia, GG Ribbon, Sun Eyelet, Cuttlebug, Circle Nestabilities, Brad
——————————
Today is one of my sons' birthday.  Gosh I think he is turning a quarter of a century today or 2-1/2 decades.  How can this be?  If he is that old then it makes me REALLY old especially considering that he is my 3rd son!  lol  I love the sentiment used on the inspiration challenge.  So here it is again.. and again.. and again.
Happy Birthday, Gary!!
——————————
Birthday Card
Stamps: SU! 'Happiness is a Journey'
Papers: SU! Basic Black, Whisper White, Riding Hood Red
Inks: SU! Craft Whisper White; Versafine 'Onyx Black'
Accessories: SU! Circle Brad, GG Ribbon, VersaMarker, Clear Embossing Powder, Cuttlebug, 'Distressed Stripes' Embossing Folder