Even though my own dear father passed away over 25 years ago, there are still lots of fathers in my life.  And I had lots of fun this past week making them all cards for Father's Day.
This first card is for my father-in-law.
After coloring the buck image with a marker, I took a rag and dabbed a bit of the ink off here and there.  Thought this might give the image a furry look.
Hm-m-m, not sure what I think about it.  Maybe it's just a matter of a little more practice to get the desired look?
The next two cards are for my hubby, one from me and one from our 18 year old son.
This is such a funny stamp, and I thought it was perfect for a Father's Day card.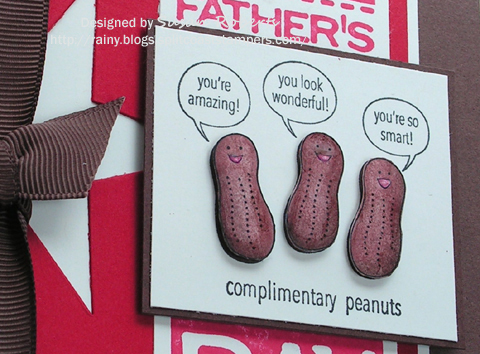 The last two cards are for my married sons who have, between the two of them, blessed me with three beautiful granddaughters.
Gary doesn't think a family is complete without a dog.  This one is for him.
And this one is for Jeff who trailered away my motorcycles awhile back.  I thought he would get a kick out of this little scene.
When stamping the sentiment on the card, the word "son" was not as straight as I wanted it.  So, I made a little banner and adhered it over the original word.  The banner is raised slightly in the center with an adhesive foam dot.  I actually like it better.  So fun when that happens!
Wishing ALL the dads out there a happy Father's Day tomorrow!
——————————
All stamps, papers and inks (except where noted) are from SU!.
Father-in-Law's Card:
Stamps: Nature Silhouettes and Teeny Tiny Wishes
Papers: Very Vanilla and Chocolate Chip
Inks: Chocolate Chip and Creamy Caramel
Accessories: Cuttlebug and "Iron Works" Embossing Folder; SU! 5/16″ Brad
Hubby's Card 1:
Stamps: Branch Out, Wonderful Favorites and Teeny Tiny Wishes
Papers: Glorious Green, Very Vanilla, Basic Black and Nouveau Chic Designer Series Paper
Inks: Glorious Green and Basic Black
Accessories: Martha Stewart "Picket Fence" Edger Punch; SU! GG Ribbon and Photo Corners Punch
Hubby's Card 2:
Stamps: That's Funny and All Holidays
Papers: Whisper White, Real Red and Chocolate Chip
Inks: Real Red and Basic Black; Memento "Tuxedo Black"; Copics
Accessories: Cuttlebug and "Concentric Stars" Die Cut; SU! 5/8″ GG Ribbon
Gary's Card (SUO):
Stamps: Man's Best Friend, Teeny Tiny Wishes and IBB
Papers: Ballet Blue, Basic Black, Very Vanilla, Parisian Breeze Textured Specialty, Autumn Meadows and Pawsitively Prints Designer Series Papers
Inks: Chocolate Chip, Creamy Caramel and Basic Black
Accessories: SU! Brads, GG Ribbon, Paper Piercer and Template and Photo Corners Punch
Jeff's Card:
Stamps: Loads of Love, Loads of Fun, Wonderful Favorites and Teeny Tiny Wishes
Papers: Very Vanilla and Basic Black
Inks: Basic Black and Markers: Summer Sun, Only Orange, Pretty in Pink, Always Artichoke, Real Red, Blush Blossom, Sahara Sand and Basic Black; Copic Spica "Clear Glitter Pen"; Copic T3
Accessories: Michael's GG Ribbon; Screw Brad