Can't believe that summer is almost over, and it's time to start thinking "back to school".  So today's post is looking back to the August '07 Dirty Dozen Gallery at Splitcoaststampers to a couple of cards that I made.
The first is a backpack shaped card.
The backpack was cut from a standard 5-1/4″ x 4-1/2″ piece of brown card stock. It was then mounted on a white card base which was also cut to the backpack pattern. The straps in back were adhered between the brown and white card stock so as to not inhibit the opening and closing of the card itself. A sewing machine was used to pierce the paper and then a marker was used for the faux stitching.
Here are the measurements if you want to make your own template.
The second card is also a standard 5-1/4″ x 4-1/2″ size.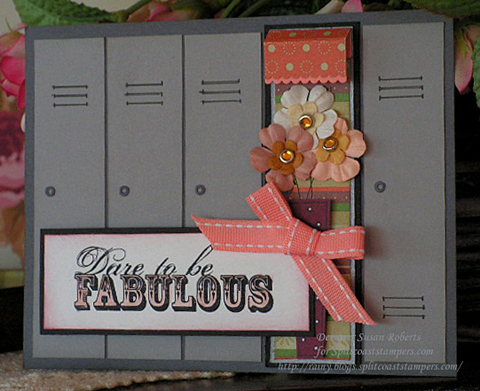 The vase is on one layer of foam tape. The sentiment is on two. The canopy is on three! I used the 1/16th" and 1/8th" hand held circle punches for the 'locks'. The locker vents are hand drawn with a gel pen.
Thanks for dropping in today.  Hope you are enjoying the last few days of summer.
Happy Crafting!
——————————
Backpack
Stamps: SU! "Sporting" and "Canvas Backgrounder"
Papers: SU! Always Artichoke, Mellow Moss, Chocolate Chip, Silver and Whisper White
Inks: SU! Always Artichoke, Chocolate Chip Classic and Marker, Cranberry Crisp, Ruby Red Marker
Accessories: GG Ribbon, Silver Brads, 1/4″ Square Punch, Corner Rounder Punch, Sewing Machine
Lockers
Stamps: SU! "Fabulous Flowers" and "Vases in Vogue"
Papers: SU! Going Gray, Basic Gray, Silver, Basic Black, Bravo Burgundy, Groovy Guava, WW, Apple Cider DP
Inks: SU! Going Gray, River Rock, Bravo Burgundy, Jet Black Stazon, Blush Blossom and Garden Green Markers
Accessories: GG Ribbon, Rhinestone Brads, Primas, Scalloped Scissors, Circle Punches, Gel Pens