Each month Splitcoaststampers hosts a Christmas Card Challenge in the Fan Club Forum.  I decided to play along for the month of March.  Hopefully this will get me going again with some creations for this year's cards.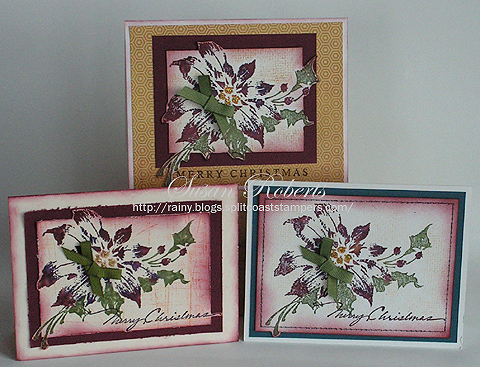 It is so nice to have a collection of Christmas cards all ready to go once the holiday season arrives.
Card 1:
Stickles was added to all of the flowers' centers for some sparkle.
Card 2:
Here's some faux stitching just for fun.
Card 3:
A little bit of the image was cut out to give that out-of-the-box look.
If you are a member of the Fan Club over at Splitcoaststampers, come join the fun and get those Christmas cards started!
Happy Crafting!
——————————
Card 1:
Stamps: Penny Black "Winter Glow"; Rubber Soul "Merry Christmas"; SU "Sanded"
Papers: PTI Vintage Cream; SU Bravo Burgundy
Inks: SU Bravo Burgundy, Always Artichoke, Elegant Eggplant and Apricot Appeal
Accessories: Grosgrain Ribbon; Gold Stickles; Masking Tape
Card 2:
Stamps: Penny Black "Winter Glow"; Rubber Soul "Merry Christmas"; SU "Aida Cloth"
Papers: PTI Select White: SU Not Quite Navy
Inks: SU Bravo Burgundy, Always Artichoke, Elegant Eggplant and Apricot Appeal
Accessories: Grosgrain Ribbon; Gold Stickles; Masking Tape; Piercing Tool and Template
Card 3:
Stamps: Penny Black "Winter Glow"; Art Impressions "Merry Christmas"; SU "Aida Cloth"
Papers: PTI Vintage Cream; SU Bravo Burgundy; My Mind's Eye "Oliver" Designer Paper
Inks: SU Bravo Burgundy, Always Artichoke, Elegant Eggplant and Apricot Appeal
Accessories: Grosgrain Ribbon; Gold Stickles; Masking Tape